GUEST POST: JANET MYLIN | ARTIST
Today's guest post is by the very talented and inspirational artist, Janet Mylin. She began painting as an aid in healing from depression and anxiety. She has since learned that creating art is a powerful tool in overcoming fear and stepping into wholeness for men and women, young and old. In her short career, Janet has had some exciting opportunities including live painting in front of a ton of people at Eisenhower Auditorium, displaying her art at The State College Framing Company, and Café Lemont, creating a design for The Pregnancy Resource Clinic's fundraising banquet, painting live at a little girls' tea party, painting during worship at her own church, and creating fun commissioned pieces for clients. Realizing that she comes alive when she can help others overcome their fears, Janet is stepping into the realm of doing paint nights!
If you have the honor of knowing Janet in one capacity or another, you'll know she is a beautiful creative soul who desires to use her gifts for God's glory. She's talented, fun, and inspiring. I knew I wanted to Janet to write a guest post from back in the spring, however, summer got extremely busy for me and every time I would go to send a quick email, something would come up and it was out of sight out of mind. But there is no time like the present and I feel her guest post will definitely speak to your heart and encourage you to surrender your fears and do it anyway, whatever your "it" may be.
• • •
FEAR & SURRENDER
Guest Post by Janet Mylin
I was siting in the dark behind the heavy curtains of Eisenhower Auditorium's stage, waiting for my cue to paint live in front of about 1500 people.
"Lord, I am not the best artist here."

"Maybe not. But you are willing."
And that sums up my wild ride, thus far, with art.

"Lord, I'm not the best."

"But you are willing."

"Lord, what if it doesn't look great when it's done?"

"You are willing."

"Lord, I feel so small."

"That's because you are willing."

"Lord, I'm afraid of being labeled or put in a box."

"Janet, I love that you are willing."
I suffer from the effects of anxiety and depression. Sometimes it's crippling. For instance, last night when i got the message from Sahmra requesting a guest blog post, I was immediately overcome with fear (masquerading as insecurity).
My poor Husband
It went something like this...
"Sahmra wants me to write a guest blog post."

"That's great. You should do it."

"But I don't have anything to offer. I don't even know what I do!"

"You do lots of great things."

"But that's the thing! I do all these different things and I can't blog about what I specifically do."

"Janet, you would hate having only on thing to do. if you did only Pet Portraits, you would hate being known as The Pet Portrait lady and you would change it. It's good that you do lots of different things."

"That's true. but she wants my social media links! My blog is lame and I don't really do much with my website. I don't even have a proper Instagram color scheme and theme!"

"You should write the blog post."
And then after about 20 minutes of freaking out and trying to talk myself out of writing this blog post, I hear that gentle nudging, reminding me that when I am weak, His strength shows up the most:
"You are willing to write the blog post, aren't you?"

"Yes, Lord. I am willing."
And, trust me, sitting down to write this was NOT an easy task. It's 8:30am and in the past hour one of my daughters lied to me, my son had to stay home sick from school, and my dog popped on the floor. Literally RIGHT BESIDE ME. AS I WAS LOOKING AT HER!
It would have been very easy to curl up in a ball and suck my thumb.
But...
s u r r e n d e r.
I've seen surrender work too many times to deny its power.
In one of the many Priscilla Shirer messages I've listened to, she said that usually the thing she fears the most, is the very thing she needs to do. and I have to agree.
I feel like God uses me most powerfully when I feel my weakest. And then this crazy thing happens, because I usually get flooded with joy in the midst of my willingness to do the hard, scary thing.
So, if I were to wrap this blog post up in a shnazzy little Tweetable lesson for the day, I would say:
"When your dog poops on the floor inches away from your foot, write the blog post anyway."
Wait. That might be too personal. Let me try again.
"When a request to use your gifts makes you want to pee your pants, do it anyway."
I mean, don't pee our pants. Do the request. Oh geez. This isn't going well. One more time,
"Do the hard things, especially when you're scared."
Nailed it.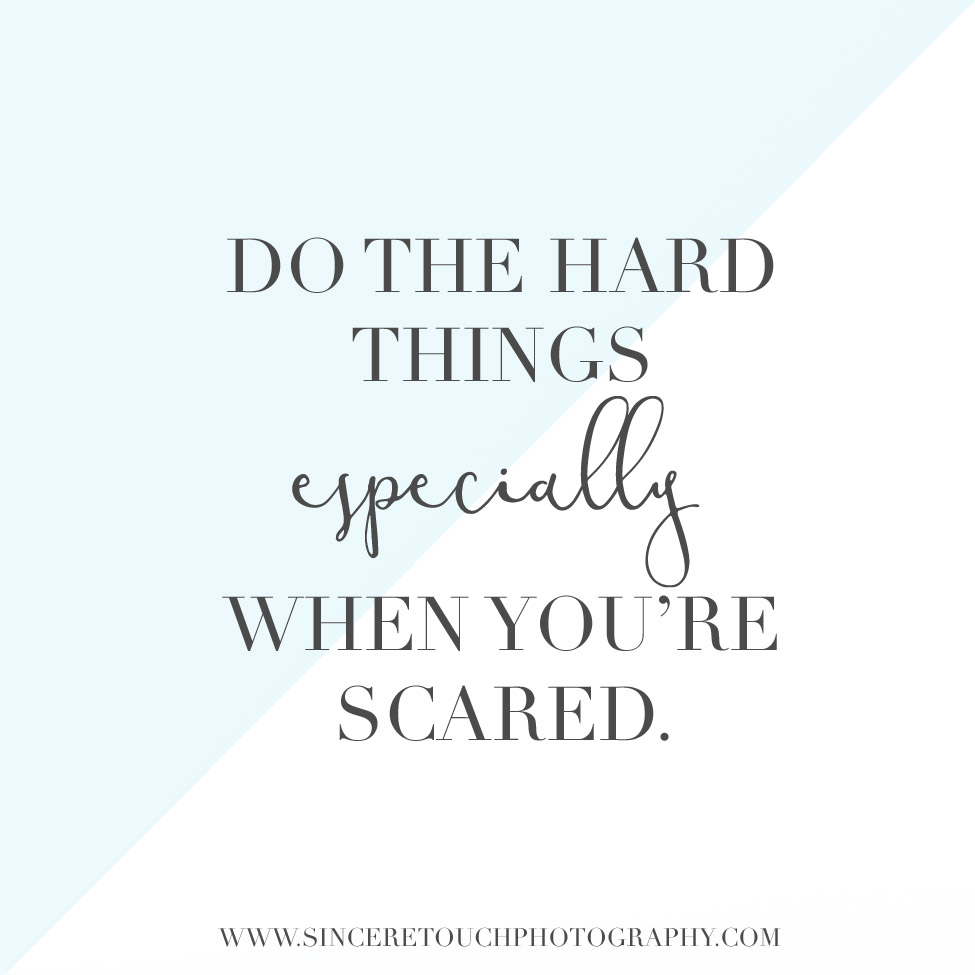 • • •
I hope you enjoyed Janet's post as much as I did. She has such a fun way of delivering words and truth. Do yourself a favor and check out her website and follow her on Instagram and Facebook.
P.S. After reading that post, I'm going to leave this here for your listening pleasure: